Tired of the bloating, gas, and cramping that comes with having Irritable Bowel Syndrome?  
Let's face it... IBS can be a bit overwhelming, right? 
Between all of the bloating... the cramping... the gas... IBS can unexpectedly ruin your day in a moments notice.
That's why we created IBPro — a "super strain" probiotic specifically formulated to fight IBS flare ups before they even begin! 
Made With MAKTrek®
IBPro is custom formulated with MAKTrek® 3-D Bypass Technology, which provides significant safeguards that may ensure better survival of the living beneficial probiotic bacteria.
The problem with most probiotic solutions is that they don't actually make it all the way to your digestive system because of the presence of stomach acid. 
MAKTrek® 3-D provides two-step acid protection, in-transit buffering, and additional safeguards to ensure the probiotic you're using survives and actually does what it's suppose to! 
HIGHLIGHTS:
Supports long-term digestive health*
Helps provide relief from abdominal discomfort, bloating, and unwanted gas
Boosts digestion and heighten metabolism*
Heightens immune system function and enhances the body's natural antioxidant activity*
Accelerates the breakdown of cholesterol and influences the way the gut absorbs it*
SUGGESTED USE:
Adults take two capsules daily with 8 ounces of water

We recommend taking the capsules on an empty stomach (either when you first wake up or right before bed)
Not intended for children 
FAQs
Will the bottle that shows up be expired?
Not at all! All orders will be shipped out within 24 hours of purchasing. Our supplements are all shelf-stable, meaning that there's no need to refrigerate them or worry about them expiring. Each bottle will show up as fresh as a hand-picked flower. Each bottle is good for 2 years from the date of manufacturing.
When can I expect to see results?
We typically recommend working any supplement into your existing nutrition plan. Because of this, results are not immediate and may take anywhere from 30 to 60 days to kick in. The best thing to do with any supplement like this is be consistent. We also recommend keeping a health journal to track your progress.
Will I be automatically billed again next month?
No. We will never automatically subscribe you to any programs. This is a one-time investment and you can choose to opt out of our emails at any time. We do offer subscription options if you're looking to save money by ordering each month.
Is it safe to order online from your website?
Yes! We use a 128-bit encrypted checkout form and a special SSL Certificate to ensure all payment and personal information is kept 100% secure.


How much does shipping costs?
We offer free shipping on all US orders.
Customer Reviews
10/03/2021
Michael L.

United States
Helping
It seems to help alot
Hey Michael, Glad to hear that IBPro is working well for you! Is there anything our team can do to earn a 5-star review? Thanks, Austin
08/26/2021
Steven s.

United States
Response
So far very good. Look forward to long term results, have already recommended product to others.
Thank you for your review Steven! We're glad to hear that IBPro is meeting your needs. We look forward to hearing about the results of your long-term use and would be happy to answer any questions or concerns in the meantime. Thanks, Austin
08/20/2021
Shelley M.

United States
I'm a believer
I am a scientist by profession. ( a Certified Registered Nurse Anesthetist - technically ) Research driven and interested in unbiased studies. I will have to say that subjectively I feel 100% better. I have been plagued with vague undiagnosed gut issues pointing towards irritable bowel. The leaky gut syndrome left me fatigued and flu like, several times a month in spite of a very healthy clean diet. I started taking your product a month ago. My symptoms have all but disappeared. Thank you for this life changing product. Shelley Martin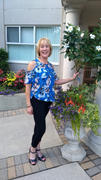 Hi Shelley, thank you for taking the time to share your feedback with us. We're so glad that IBPro has been such a life changing product for you! We're also very happy to hear that your symptoms have all but disappeared. We hope this will continue and we look forward to hearing from you in the future. Please let us know if you need anything else! - Austin
08/14/2021
Janet E.

United States
Ibpro review
I am still taking my first bottle of ibpro. I sometimes forgot to take 2 a day. I have to get on a system of some kind, so I remember. I am on a prescription for IBS called Linzess and it seems like I haven,t needed to take it as much recently. I will try to do better with taking the ibpro and time will tell!
Janet, thank you for taking the time to share your feedback with us! We're so glad to hear that you're finding IBPro helpful and that it's reducing some of your symptoms. We hope that over time, IBPro will continue to be able to help reduce or eliminate other medications which can have serious side effects. As always, please let us know if you need anything and thanks for your trust in our team. - Austin
08/05/2021
Sally S.

United States
Great Company!
Unfortunately I was unable to try this Probiotic per my Dr's advice. I emailed them to get a return address and they sent me an email immediately refunding my purchase. I passed it on to my daughter and it has helped her immensely. She has told several of her friends & coworkers about her success. This is a real stand up company. Great Product!
Thank you for your feedback, Sally! We're sorry to hear that the IBPro Probiotic didn't work out for you, but we're glad it was able to help your daughter. We do hope she continues to share her success with others and we're so happy to have been a part of her journey! We take great pride in our customer service and want all customers who purchase from us to be satisfied. If there is ever anything we can do for you please let us know :) To your health, Austin